May 11  General meeting TSAA 6:30 pm
June 3   Art in the Park 10 am to 5 pm and June 4 11 am to 5 pm
Thursday, July 13 Board of Directors Meeting
Thursday, August 10 Picnic details to be determined. Spouses/significant others are invited to this,
Thursday, September 14 Board of Directors Meeting
Thursday, October 12 General Meeting Studio 1 Huntington Museum of Art 6:30 pm
Thursday, November 9 Board of Directors meeting
Thursday, December 14 Holiday Party-details to be announced, May bring guest.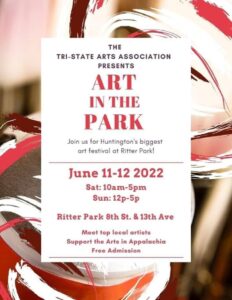 Art In the Park Spring 2023

 by Tri-State Arts Association
Saturday, June 3rd  10 am to 5 pm; Sunday, June 4th  11 am to 5 pm
Location: Ritter Park, Huntington WV. New location: area behind the fountain (10th Street).
Artist Easels, Food Trucks, looking for entertainment – face painter, balloon artist/clowns, strolling musicians, caricature artists, etc.
TSAA members who wish to set up a space need to reserve an easel by September 30th. Easel price is now $50 for the weekend. Send check to TSAA, P.O. Box 2263, Huntington, WV 25723.

The Mountain State Art & Craft Fair:  June 30 through July 2, 2023

Where: Cedar Lakes Conference Center in Ripley, West Virginia, .

Deadline for submission: May 31, 2023
Complete and return the 2023 Exhibitor Participation Agreement prior to the May 31, 2023 deadline. If you have any questions, please contact us at msacf@outlook.com.


The Tri-State Arts Association proudly announces its newest juried members: Cara Clark, mixed media from Ashland KY; Roger Cline, oil, Rush KY; Thea Cline, oil, Rush, KY, Maurice Cooley, watercolor, Huntington, WV, Judy Hunter, watercolor, Huntington WV; T.J, Owens, photography, Patriot, OH; and Erica Watson, egg tempora.  Current TSAA members juried into other mediums, Claudia Simes acrylic, watercolor, mixed media, from Huntington WV, as well as Sandra Charles Wiehe, mixed media, from Huntington, WV.
Leigh McDonald had her artwork was accepted into the Ohio Designer Craftsman Best of 2023 Show.  This piece, A Microcosm of the Forest, was juried into the show which will be at the Ohio Craft Museum in Columbus between May 7th – July 9th and will then travel to the Wassenberg Art Center where were selected for the exhibition where it will be shown August 31st – September 31st.  There were 307 entries from 125 artists and 79 works were selected for the exhibition.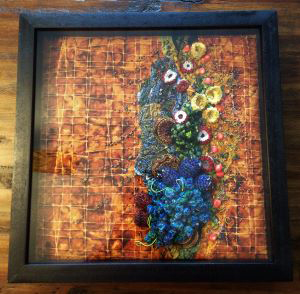 The new exhibit "Optimism in Appalachia" opened at Marshall University's Drinko Library.  This exhibition will be available for viewing until May.  Wander around the first, second, and third floors to see TSAA artists: Sandra Charles Wiehe, Rong Wang, Diane Smallwood Arthur, Vernon F. Howell, Ann Grimes, Laura Moul, Leigh McDonald, Karrie Lycans, Terr Barron, Christie Saunders, Claudia Simes, and Bonnie Moore.  It is wonderful for TSAA artists to participate in our community. Three Jurors Choice awards were announced at the reception last Thursday, February 2.  Leigh McDonald and Ann Grimes were honored.
From Pamela DeCamp:  "I am so excited to have my image Fall Reflections included in the Columbus Metropolitan Library Art Show. I have tried several times to jury-in. I am glad I am persistent! If you look at the notifications, they had 419 submissions and accepted 36! I am very happy to be included in this show! It opens February 3 and runs through March 25"
Laura Moul completed 15 continuing education units (attendance at state and national conventions, educational seminars and online training) to maintain her Certified Professional Photographer (CPP) designation. According to Odessa Sabado, Certification Coordinator for Professional Photographers of America stated "this is a significant achievement in the photographic industry". Laura initially attained her CPP in 1998 with portfolio acceptance and comprehensive written exam, and has consistently renewed this every 3 years.
Diane Smallwood Arthur submitted the following:  2nd place and Honorable Mention in Watercolor in the French Art Colony Art Show  July 2022.  She also had a 21 piece art show at the 3rd Avenue Art Gallery in Huntington last November 2022.  Her art was also selected for the Marshall University Art Library Exhibit